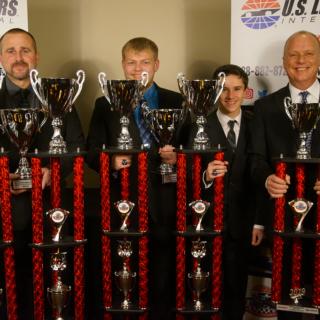 Friday January 24, 2020
The INEX Championship Banquet, which was held at the Speedway Club at Charlotte Motor Speedway on Saturday, January 18, showcased the achievements of eleven drivers who compete regularly at New Hampshire Motor Speedway in the Road Course Series and Oval Series along with other racers from the United States, Australia, Canada, Finland, Italy, Latvia, Sweden and the United Kingdom. NHMS's 2019 Road Course Series and Oval Series Track Champion, Shaun Buffington, was honored with not only two championships, but he was also presented with the coveted Bilstein Madonna Award for his accomplishments on and off the track.
Recent Headlines
01/15/20

Three local nonprofits experienced true holiday spirit, each benefitting from the generosity of those who attended the Gift of Lights presented by Eastern Propane & Oil at New Hampshire Motor Speedway. The seasonal event, which ran from Thanksgiving through January 5, kicked off the year's fundraising efforts for Speedway Children's Charities New Hampshire Chapter with $30,000, provided an extra 4,800 meals to the Loudon Food Pantry and helped the Loudon Firefighters Association raise $4,000.

12/19/19

The Flat Track at New Hampshire Motor Speedway will kick off its 2020 season in the height of the New England winter with an action-packed snowmobile event. Snocross will make its debut on the snow-covered dirt track when it rips into Loudon February 15-16, marking the first ever winter event on The Flat Track.

12/10/19

The holiday spirit filled The Palace Theatre in Manchester, N.H. on Tuesday as Manchester Mayor Joyce Craig joined Speedway Children's Charities New Hampshire Chapter at its 11th annual grant distribution ceremony. Grants were handed out to 51 local nonprofits totaling $55,375 in front of the festive backdrop from "A Christmas Carol."

Since its inception in 2009, New Hampshire Motor Speedway and SCC have distributed more than $1.8 million, supporting more than 808,000 children in the local community.

12/04/19

Director of business development, Steve Kirkpatrick, has been named New Hampshire Motor Speedway's Salesperson of the Year for the second time for exceeding expectations in the corporate sales department. Kirkpatrick received the award on Tuesday in Nashville, Tenn., where NASCAR is hosting its annual awards banquet.

12/03/19

Three more short track races have been added to New Hampshire Motor Speedway's Full Throttle Fall Weekend, September 11-12, 2020. The fresh new lineup will include the American-Canadian Tour and Granite State Legend Cars along with the NASCAR Whelen Modified Tour and ARCA Menards Series East and will crown four season champions during the two-day event.
More News