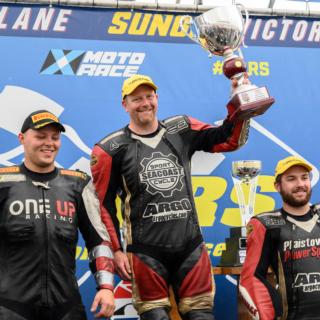 Sunday June 16, 2019
Scott Greenwood takes his first Loudon Classic victory since 2014, ending Shane Narbonne's four-year winning streak at New Hampshire Motor Speedway on Sunday.
Recent Headlines
06/15/19

The inaugural Laconia Short Track presented by Russ Brown Motorcycle Attorneys proved to be a challenging 0.25-mile feat for American Flat Track riders on Saturday.

06/13/19

America's longest-running motorcycle race will wrap up Motorcycle Week at NHMS on Sunday, June 16.

06/12/19

NASCAR stars featured in first ever race under the lights at New Hampshire Motor Speedway's new flat track on Friday, July 19 during NASCAR weekend.

06/07/19

New Hampshire Motor Speedway is the perfect pit stop for racing, demo rides, vendor displays, camping and more during Laconia Motorcycle Week, June 8-16.

06/06/19

NHMS officially opened The Flat Track with a ribbon-cutting ceremony following the Laconia Motorcycle Week kick-off event at the North East Motor Sports Museum on Thursday.