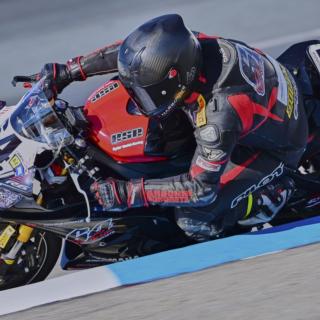 Monday June 21, 2021
Narbonne earned his second consecutive and ninth overall Loudon Classic win on Saturday at New Hampshire Motor Speedway. The 98th Annual Loudon Classic weekend by Mayhew Tools featured three days of perfect weather, fans from all over New England and racing with the Northeast Motorcycle Road Racing (NEMRR) series. NEMRR is part of the national Championship Cup Series organization, and riders from the Northeast, Atlantic and Mid-Atlantic regions competed in a twin sprint weekend that ran an impressive 45 races in total.
Read More
Recent Headlines
06/16/21

The 98th Annual Loudon Classic weekend by Mayhew Tools will feature three days of racing with the Northeast Motorcycle Road Racing series from June 18-20. The 2021 Loudon Classic event pays championship points in three CCS regions, and as such, riders will be attending from all up and down the east coast to compete in 30 separate race classes over three days. The competition should be fierce!

06/10/21

It's all about two wheels at New Hampshire Motor Speedway (NHMS) starting Saturday as Motorcycle Week at NHMS begins. NHMS is a top destination for riders visiting the area during Laconia Motorcycle Week with on- and off-track events throughout nine days of motorcycle mayhem. Racing bookends a week-long motorcycle celebration featuring camping, vendors, demo rides and more.

06/04/21

Governor Chris Sununu, Commissioner of the New Hampshire Department of Business and Economic Affairs Taylor Caswell and New Hampshire Motor Speedway (NHMS) Executive Vice President and General Manager David McGrath kicked off the summer season of racing and shared their excitement for bringing fans back to the 1.058-mile speedway in Friday afternoon at NHMS. Sununu, Caswell and McGrath also enjoyed hot laps around "The Magic Mile" in exotic cars from Xtreme Xperience.

05/10/21

New Hampshire Motor Speedway is gearing up for an exciting and action-packed racing season that includes Motorcycle Week at NHMS featuring the 98th Annual Loudon Classic, a two-day NASCAR race weekend highlighted by the NASCAR Cup Series Foxwoods Resort Casino 301, plus the Granite State Legends Cars Road Course Series and many other racing clubs, driving experiences and more throughout the season.

05/06/21

Anyone who's ever dreamed of being a race car driver can make it come true while helping children in need throughout New England on Friday, May 14. Laps for Charity offers anyone with a need for speed the opportunity to drive his or her own vehicle on one of New Hampshire Motor Speedway's famed racing surfaces as well as ride in the official NHMS pace car with proceeds benefitting the New Hampshire Chapter of Speedway Children's Charities.
More News