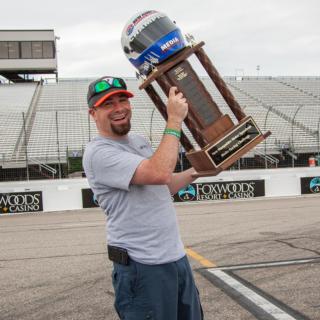 Friday July 12, 2019
Host of the Wicked Fast Podcast on WROR 105.7 out of Boston, Mass. beat out 15 other New England media members in driving/tire change competition at New Hampshire Motor Speedway.
Recent Headlines
07/12/19

Massachusetts native Chris Wagner to lead the field to green for the Monster Energy NASCAR Cup Series race on Sunday, July 21 at 3:00 p.m. at New Hampshire Motor Speedway.

07/10/19

New Hampshire Motor Speedway's NASCAR race weekend not only features three days of exciting racing action, but five days of fun events for race fans to enjoy that all benefit children in need across New England.

07/09/19

The NASCAR Xfinity Series ROXOR 200 takes on "The Magic Mile" on Tripleheader Saturday, July 20 at 4:00 p.m.

06/27/19

Monster Energy NASCAR Cup Series driver and $1 million All-Star Race winner Kyle Larson made a pit stop at Foxwoods Resort Casino in advance of the July 21 Foxwoods Resort Casino 301 at New Hampshire Motor Speedway.

06/26/19

NASCAR returns to New Hampshire Motor Speedway July 19-21 with the Modified All Star Shootout, Cape Cod Café Pizza Pole Day, the all new Friday Night Dirt Duels presented by New England Racing Fuel, the United Site Services 70, the Eastern Propane & Oil 100, the Lakes Region 200 and the Foxwoods Resort Casino 301.