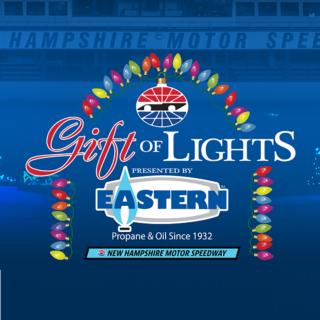 Thursday November 21, 2019
With the holidays fast approaching, NHMS is getting into the spirit by trading in the checkered flags for 2.5 million twinkly lights during the Gift of Lights presented by Eastern Propane & Oil. The ninth annual event spreads holiday cheer for 35 days with fundraising for the local community from Nov. 28-Jan. 5.
This year, the 2.5-mile drive-thru light show is bigger and better with 520 displays and 80 different scenes opening at 4 p.m. daily including Thanksgiving and Christmas. The out of car experience includes the s'mores pit and $5 pictures with Santa Claus on Fridays and Saturdays through Dec. 21.
Recent Headlines
11/18/19

The 2019 champions from three local racing series were honored at the annual awards banquet held for the first time at Foxwoods Resort Casino in Mashantucket, Conn. on Saturday, November 16.

Two New England racers - Rick Doucette of the Loudon Road Race Series and Shaun Buffington of the MOAT Mountain Road Course Series and the legend car division of J&J's Yolk & Co. Oval Series - each took home 2019 Track Champion titles from New Hampshire Motor Speedway in their respective series.

11/11/19

In honor of its unwavering commitment to saluting the U.S. Armed Forces, NHMS's parent company, Speedway Motorsports, was named the recipient of the 2019 President's Veterans Recognition Award from Coca-Cola.

The prestigious award was presented at The Coca-Cola Company's annual Veterans Day Celebration in Atlanta to Speedway Motorsports President and CEO Marcus Smith, who accepted the accolades on behalf of Speedway Motorsports' eight world-class motorsports entertainment facilities.

11/07/19

New Hampshire Motor Speedway will host three short track races in 2020 when NASCAR's regional series visit the 1.058-mile oval.

The NASCAR Whelen Modified Tour will make two stops - July 18 and September 12, 2020.

The ARCA Menards Series East (formerly the NASCAR K&N Pro Series East) will join the Modifieds on September 12, 2020.

11/06/19

New Hampshire Motor Speedway and NASCAR donated five NASCAR-themed STEM kits to the Girl Scouts of the Green and White Mountains to use in workshops during Saturday's Junior Jamboree at Sanborn Regional High School in Kingston, N.H. The kits were used to teach the Girl Scout Juniors about potential and kinetic energy, drag, downforce and friction and how they all play a part in NASCAR to help them earn a Mechanical Engineering - Balloon Car badge.

11/05/19

Need a fun holiday gift idea for someone special? How about tickets to the NASCAR Cup Series Foxwoods Resort Casino 301 on Sunday, July 19, 2020!

Plus, if you purchase tickets before December 3, 2019, you'll be in the running to make your NASCAR weekend even more memorable by winning an experience money can't buy with Ticket Tuesday Giveaways!
More News