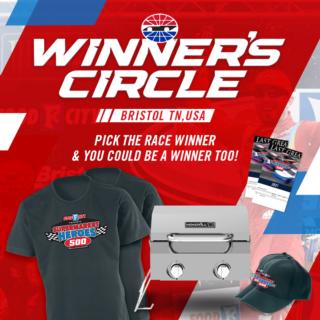 Sunday May 17, 2020
As NASCAR returns to racing, New Hampshire Motor Speedway is giving race fans a chance to get cool prizes with its new Winner's Circle promotion.
The challenge is simple and the potential prizes are awesome: New Hampshire Motor Speedway fans that enter the Winner's Circle contest and choose a winner of the upcoming NASCAR Cup Series races will be eligible to win great prizes.
Recent Headlines
05/09/20

The New Hampshire Food Bank, with the help of the New Hampshire Army National Guard, brought a Mobile Food Pantry to New Hampshire Motor Speedway on Saturday, which provided nearly nine tons of food for nearly 1,200 people in Loudon, Concord, Laconia, Belmont and the surrounding areas.

03/26/20

Friends of New Hampshire Motor Speedway,

We hope you and your loved ones are staying healthy. During this time of uncertainty due to COVID-19, we want you to know that your well-being is important to us and that we are committed to keeping you up-to-date on what's happening as we prepare for the upcoming race season.

02/25/20

Three new series have been added to The Flat Track lineup during New Hampshire Motor Speedway's three major event weekends giving race fans more summertime racing. King of Dirt Crate Modified Series, Sprint Cars of New England and the Granite State Mini-Sprint Racing Club will debut at The Flat Track as part of June's Motorcycle Week at NHMS, July's NASCAR race weekend and September's Full Throttle Fall Weekend.

02/14/20

Snocross will make its debut on the snow-covered dirt track at New Hampshire Motor Speedway, February 15-16, marking the first winter event on The Flat Track. Among the field of more than 100 Eastern Snocross Tour athletes from around the Northeast who will be taking on Loudon this weekend will be local talent including a N.H. State Trooper, an 11-year old, the son of a local business owner and 2020 Aspen X Games bronze medalist.

02/13/20

The Flat Track at New Hampshire Motor Speedway was honored with the Business Inspiration Award from the Lakes Region Chamber of Commerce. The award was given during their annual meeting on January 31 to the seven-month-old dirt track for bringing a brand new event - the Laconia Short Track - to the nearly 100-year-old Laconia Motorcycle Week Rally in June 2019, making Loudon's New Hampshire Motor Speedway the epicenter of Laconia Motorcycle Week action.
More News