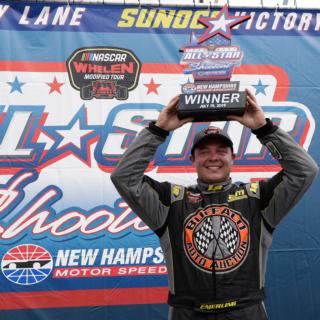 Friday July 19, 2019
Patrick Emerling defeats Bobby Santos III by 0.022 seconds at New Hampshire Motor Speedway on Friday.
Recent Headlines
07/16/19

New England race fans don't have to travel far to enjoy their favorite food options from other Speedway Motorsports Inc. tracks from around the country.

07/12/19

Host of the Wicked Fast Podcast on WROR 105.7 out of Boston, Mass. beat out 15 other New England media members in driving/tire change competition at New Hampshire Motor Speedway.

07/12/19

Massachusetts native Chris Wagner to lead the field to green for the Monster Energy NASCAR Cup Series race on Sunday, July 21 at 3:00 p.m. at New Hampshire Motor Speedway.

07/10/19

New Hampshire Motor Speedway's NASCAR race weekend not only features three days of exciting racing action, but five days of fun events for race fans to enjoy that all benefit children in need across New England.

07/09/19

The NASCAR Xfinity Series ROXOR 200 takes on "The Magic Mile" on Tripleheader Saturday, July 20 at 4:00 p.m.