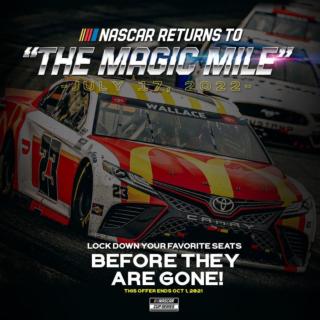 Wednesday September 15, 2021
The 2022 NASCAR Cup Series (NCS) schedule includes a July 17 visit to New Hampshire Motor Speedway. The 301-lap NCS race will be the 51st running for NASCAR's premier series at "The Magic Mile."
Read More
Recent Headlines
07/23/21

NASCAR weekend at New Hampshire Motor Speedway proved to be successful for local nonprofits with the dedication of both the New Hampshire Chapter of Speedway Children's Charities and the many volunteer groups who helped fundraise more than $127,000 during the July 17-18 Foxwoods Resort Casino 301 event.

07/18/21

Aric Almirola raced Mother Nature, daylight and the NASCAR Cup Series (NCS) field to claim his first win since 2018 in a wild Foxwoods Resort Casino 301 at New Hampshire Motor Speedway and a berth in the 2021 NCS Playoffs.

07/17/21

Christopher Bell didn't need any help finding victory lane after Saturday's Ambetter Get Vaccinated 200 NASCAR Xfinity Series (NXS) race at New Hampshire Motor Speedway (NHMS). For his third consecutive NXS start at NHMS, the Joe Gibbs Racing driver piloted his Toyota Supra to the checkered flag to cap off an action-packed Doubleheader Saturday at "The Magic Mile."

07/17/21

Thirty-one cars entered Whelen 100 at New Hampshire Motor Speedway, but the opening showdown of Doubleheader Saturday came down to just three, with Ryan Preece holding off a wicked fast Justin Bonsignore and Ron Silk to earn his first-ever points win at his home track.

07/16/21

With a NASCAR Cup Series (NCS) championship in 2020, a NASCAR Xfinity Series championship in 2014, a dozen NCS wins and three consecutive NMPA Most Popular Driver awards, Chase Elliott has enjoyed an amazing amount of success over a relatively short time in NASCAR. One item still notably missing from his impressive list of achievements? A NCS win – or win of any kind – at New Hampshire Motor Speedway.
More News