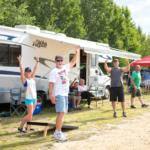 Standard RV Camping
All camping lots will have reserved spaces. We offer four different size camping spaces in our standard lots for self-contained RVs & campers.
20' x 30' spot for $120*
20' x 40' spot for $160*
20' x 60' spot for $240*
20' x 80' spot for $320*
*All prices are listed by race week (we do not offer a nightly rate). Prices subject to change June 15, 2020. Fans will be able to select their own campsite and may renew that spot for the following year. Speedway staff will do their best to help coordinate groups traveling together.