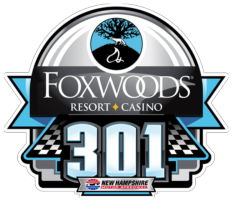 Foxwoods Resort Casino 301
Sunday, July 21, 2019
3:00 PM -

6:00 PM
Monster Energy NASCAR Cup Series
The Foxwoods Resort Casino 301 race weekend, July 19-21, features three days of exciting on-track action for one of New England's biggest parties of the summer. The Monster Energy NASCAR Cup Series will take center stage for the Foxwoods Resort Casino 301 on Sunday, July 21 at 3:00 p.m.
The weekend also features Tripleheader Saturday (July 20) with the NASCAR Whelen Modified Tour racing in the Eastern Propane & Oil 100 at 2:00 p.m., the NASCAR Xfinity Series racing in the Lakes Region 200 at 4:00 p.m. and the NASCAR K&N Pro Series East racing in the United Site Services 70 at approximately 6:45 p.m.
The NASCAR Whelen Modified Tour All Star Shoot Out gets the on-track action started on Friday, July 19 at 2:10 p.m., followed by qualifying for the Monster Energy NASCAR Cup Series drivers starting at 4:45 p.m.
Standard RV Camping
All camping lots will have reserved spaces. We offer four different size camping spaces in our standard lots for self-contained RVs & campers.
20' x 30' spot for $120*
20' x 40' spot for $160*
20' x 60' spot for $240*
20' x 80' spot for $320*
*Price of camping will increase on June 15, 2019. All prices are listed by race week (we do not offer a nightly rate).
Fans will be able to select their own campsite and may renew that spot for the following year. Speedway staff will do their best to help coordinate groups traveling together.
Tent Camping in S7 Lot
Open: Thursday, July 18, 2019 at 6:00 a.m. - Monday, July 22, 2019 at 12:00 p.m.
Cost: $90/spot
Size: 12' x 30'
July Tenting Policies
In July, tent campers must have purchased two race tickets (to either the Saturday or Sunday races) & the ticketholder must be present with tickets to purchase tent camping. Race tickets will be available for purchase on location. Purchases will be limited to one spot per person.
There is no overnight staging for tent campers. The staging line will open at 5:00 a.m. on Thursday, July 18, 2019 in S11.