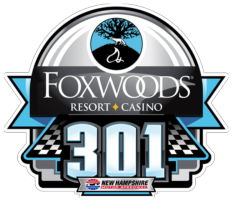 Foxwoods Resort Casino 301
Sunday, July 21, 2019
3:00 PM -

6:00 PM
Monster Energy NASCAR Cup Series
The Foxwoods Resort Casino 301 race weekend, July 19-21, features three days of exciting on-track action for one of New England's biggest parties of the summer. The Monster Energy NASCAR Cup Series will take center stage for the Foxwoods Resort Casino 301 on Sunday, July 21 at 3:00 p.m.
The weekend also features Tripleheader Saturday (July 20) with the NASCAR Whelen Modified Tour racing in the Eastern Propane & Oil 100 at 2:00 p.m., the NASCAR Xfinity Series racing in the Lakes Region 200 at 4:00 p.m. and the NASCAR K&N Pro Series East racing in the United Site Services 70 at approximately 6:45 p.m.
The NASCAR Whelen Modified Tour All Star Shoot Out gets the on-track action started on Friday, July 19 at 2:10 p.m., followed by qualifying for the Monster Energy NASCAR Cup Series drivers starting at 4:45 p.m.