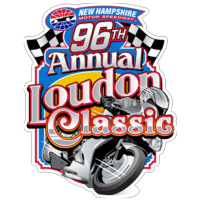 96th Annual Loudon Classic
Sunday, June 16, 2019
The 96th annual Loudon Classic Middleweight Grand Prix has moved back to Father's Day, Sunday, June 16. Known as the longest-running motorcycle race in America, the Classic has been held on-site since long before the speedway was built, when it was simply a road course known as Bryar Motorsports Park.
The weekend will include the Loudon Road Race Series competing in Round Three of Championship Cup Series racing along with the Granite State Legends Cars, which are powered by motorcycle engines, and Bandoleros. Divisions include classes such as Formula 1, Formula 2, Formula 3, Formula 4, Formula 40, Formula 50, GP, Grand Prix, GTL, GTO, GTU, Motard, Moto 3, Sportsman, Superbike, Super Singles, Supersport, Super Twins and Thunderbike. The fan-favorite Supermoto event will return on Friday, June 14 as well as the ASRA Team Challenge on Saturday, June 15.
Weekend Schedule
While the 96th Annual Loudon Classic races take place on Sunday, June 16 at 11:15 a.m., the entire weekend will be filled with different classes of motorcycles racing in round six of the 2019 Loudon Road Race Series & Legends cars racing in the MOAT Mountain Road Course Series - all on the 1.6-mile road course.
Click "Additional Details" to see the entire weekend schedule. You can also view a PDF version of the entire weekend schedule.
Weekend Schedule
Thursday, June 13, 2019

12:00 – 7:45 p.m.

LRRS Registration

4:00 – 8:00 p.m.

LRRS Technical Inspection Open

8:00 – 9:00 p.m.

Officials Meeting Media Center

Friday, June 14, 2019

7:00 a.m.

LRRS Registration & Technical Inspection Open

8:00 – 10:20 a.m.

LRRS Practice (1 Round - 12 minute session)

8:45 a.m.

LRRS Registration CLOSES (Entries added after closure will be the cost of the class fee + $15 late fee)

10:25 a.m.

Mandatory Riders Meeting

10:45 a.m.

National Anthem

10:50 a.m.

Race #1: Novice / Rookie Race

 

Race #2: EX/AM – GTL

 

Race #3: EX/AM – GTO & GTU      

 

Race #4: EX/AM – Super Singles, Moto 3 & Combined 300 Supersport

12:20 p.m.

Lunch

1:10 p.m.

Race #5: EX/AM – Heavyweight Supersport & Formula 40 (Unlimited)

 

Race #6: Novice – Formula 1 & Formula 3

 

Race #7: EX/AM – Lightweight Grand Prix

 

Race #8: EX/AM – Unlimited Grand Prix     

 

Race #9: Novice – Formula 2 & Formula 4

 

Race #10: EX/AM – Ultralight Superbike       

 

Race #11: EX/AM – MW Supersport

3:50 p.m. (Approximately)

LRRS Supermoto

 

Warm Up: Lites, Supermini, Open – 2 Rounds (7 Minutes Each)

 

Lites Qualifying – 7 minutes

 

Super Mini Qualifying – 7 minutes

 

Open Qualifying – 7 minutes

 

Lites Main – 12 minutes + 1 lap

 

Super Mini Main – 8 minutes + 1 lap

 

Open Main – 12 minutes + 1 lap

7:00 p.m. (Approximately)

LRRS Trophy Ceremony

Saturday, June 15, 2019

7:00 a.m.

LRRS / Team Challenge Registration & Technical Inspection Open

8:00 – 8:20 a.m.

Moat Mountain Legends Road Course Series Practice

8:45 a.m.

LRRS Registration CLOSES (Entries added after closure will be the cost of the class fee + $15 late fee)

8:30 – 10:45 a.m.

Team Challenge / LRRS Practice (1 Round – 12 minute session)

10:50 – 11:20 a.m.

Moat Mountain Legends Road Course Series 12 Lap Race

10:55 a.m.

Mandatory LRRS Riders Meeting

11:20 a.m.

National Anthem

11:25 a.m.

Race #1: EX/AM – Formula 50 Lights & Combined 500 Supersport

 

Race #2: EX/AM – Heavyweight Superbike

 

Race #3: AM/NOV – Lightweight Superbike, Rookie 3 & Rookie 4

 

Race #4: EX – Lightweight Superbike

12:45 p.m.

Lunch & LRRS Trophy Ceremony

1:25 p.m.

Race #5: ASRA / Team Challenge & Classic Challenge (2 Hours)

Sunday, June 16, 2019

7:30 a.m.

Registration & inspection Opens

8:00 – 8:20 a.m.

Moat Mountain Legends Road Course Series 12 Lap Race

8:30 –  10:30 a.m.

LRRS Practice (1 Round – 12 minute session)

8:45 a.m.

LRRS Registration CLOSES (Entries added after closure will the cost of the class fee + $15 late fee)

10:40 a.m.

Mandatory LRRS Riders Meeting

11:05 a.m.

Pre-Race Activities / National Anthem

11:15 a.m.

Race #1: AM – 96th Annual Loudon Classic Middleweight Grand Prix – Sponsored by Michelin / Motorace  12 Laps

 

Race #2: EX – 96th Annual Loudon Classic Middleweight Grand Prix – Sponsored by Michelin / Motorace  20 Laps

12:05 p.m.

Lunch & Loudon Classic Victory Lane

12:50 p.m.

Race #3: EX/AM – Unlimited Supersport & Combined Super Twins

 

Race #4: EX/AM – Motard, Ultralight Grand Prix & Combined 300 Superbike

 

Race #5: EX/AM – MW Formula 40 & Formula 40 Lights

 

Race #6: Novice – Rookie 1 & Rookie 2         

 

Race #7: EX – Lightweight Supersport, Lightweight Sportsman & Combined 500 Superbike

 

Race #8: AM/NOV – Lightweight Supersport, Lightweight Sportsman, Starter 3 & Starter 4

 

Race #9: EX – Unlimited Superbike & Thunderbike

 

Race #10: AM/NOV – Unlimited Superbike, Thunderbike, Starter 1 & Starter 2

 

Race #11: EX/AM – MW Superbike