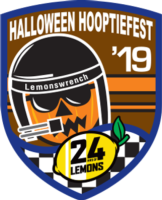 24 Hours of Lemons Halloween Hooptiefest
Saturday, October 19 -
Sunday, October 20, 2019
The 24 Hours of Lemons is the world's first endurance-race series for cars that cost $500 or less. With 10,000 participants spread across dozens of races at tracks coast-to-coast, no other event creates bigger, weirder, more hilariously irrational challenges than these weekend-long blowouts of door-to-door, bumper-to-bumper competition between cars that are due for the scrapheap.
The 24 Hours of Lemons Halloween Hooptiefest is restricted to cars that were purchased, fixed up and track-prepped for a total of $500 or less. At most venues, the racing consists of tech inspection and track testing on Friday, endurance-race sessions on Saturday and Sunday, and breaks for sleeping, eating and Band-Aid application every night.
Tickets (Available at the gate)
Tickets for the weekend are $30 and include infield access. Kids 16 and under are free.