Advertise at NHMS
Fan Engagement
Strategically located for maximum visibility and fan traffic, New Hampshire Motor Speedway's Fan Zone allows brands to showcase their product(s) or service(s) to the most brand loyal fans in all of sports.
With the ability to accommodate any size marketing exhibit, the Fan Zone is the perfect location to foster direct business-to-consumer engagement as fans enter and exit the race track. Filled with high energy fan favorites such as the Kids Zone, Fan Entertainment Stage, and Fanatics shopping plaza, the Fan Zone is the hub of all fan activities throughout race weekend.
A presence on our property creates awareness of your brand and helps initiate relationships with hundreds of thousands of potential customers from across New England, Canada, and beyond!
Print & Interactive Engagement
Extend the reach and frequency of your brand's message with inclusion in our on-site event collateral and digital channels. With our print publications we offer a variety of advertisement options with sizes ranging from ½-page ads to two-page spreads. Pricing incentives are available for clients who purchase season-long advertising packages.
"Magic Mile Magazine" Souvenir Program - Published twice a year during our NASCAR event weeks, souvenir programs are a great avenue to ensure your branding is cherished for years to come.
Fun Guides - A race fan's quick reference tool during race weekends, fun guides are pocket pamphlets that provide on-the-go information about NHMS.
Camping Bag Inserts – Distributed to all 4,000 campers who stay on-site during race weeks, camping bags are the perfect way to connect with our most loyal fans. Create a call-to-action with a promotional coupon, flyer or insert.
Ticket Backs – Advertise your business with direct integration on the back of our NASCAR ticket stock.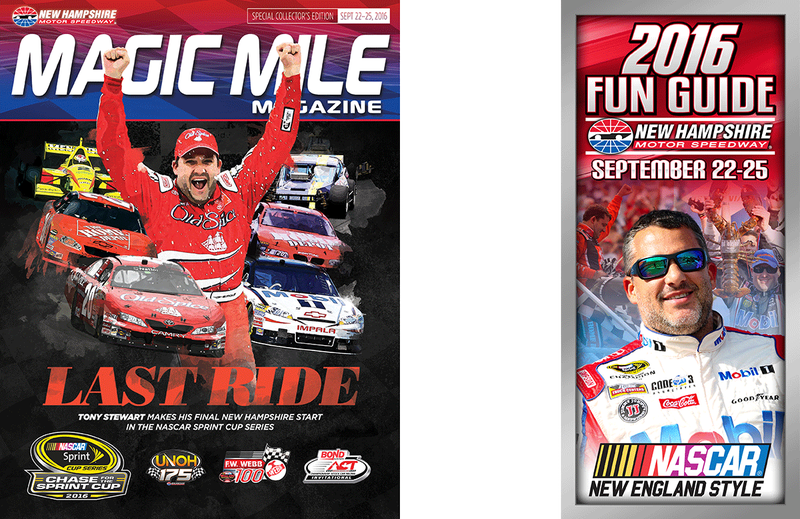 Engage with hundreds of thousands of NHMS fans seamlessly through integration with our digital assets including our website, the official NHMS mobile app, and media channels.
Digital advertising opportunities include:
Website banner advertisements
Content sponsorships
Web listings and links
Promotional contests
Integrated social media messaging