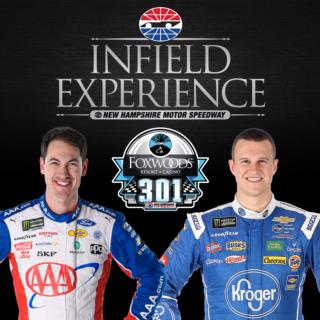 Wednesday May 22, 2019
Local Connecticut racers, Champion Joey Logano and Rookie Ryan Preece, set for Q&A on Sunday in the new Infield Experience.
Recent Headlines
05/20/19

Four Loudon Road Race Series riders draw strong comparisons between their military service and motorcycle racing at New Hampshire Motor Speedway.

05/16/19

ACM/CMA/CMT nominated duo to kick off the Monster Energy NASCAR Cup Series Foxwoods Resort Casino 301 on July 21 at 12:00 p.m.

05/15/19

Speedway Children's Charities New Hampshire Chapter is excited to host the Karting For Kids indoor karting championship, where you can go wheel-to-wheel against other NASCAR fans for a chance to race against Monster Energy NASCAR Cup Series driver Kyle Larson on Thursday, June 27 from 11:00 a.m. - 2:00 p.m. at Monza World Class Karting at Foxwoods Resort Casino!

05/08/19

New Hampshire Motor Speedway staff performed a day of community service sprucing up seven locations in the speedway's hometown of Loudon, N.H.

04/29/19

2018 Expert Track Champion, Amateur Achievement Award winner and Vanson Leathers Rookie of the Year all determined to work hard but have fun this season.