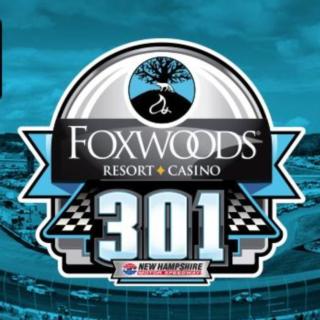 Wednesday September 30, 2020
The 2021 NASCAR Cup Series schedule includes a July 18 visit to "The Magic Mile." The Foxwoods Resort Casino 301 will be the historic 50th visit by NASCAR's premier series to New Hampshire Motor Speedway and once again serve as the season's last race prior to NASCAR's mid-summer break.
Recent Headlines
09/12/20

A wild finish featuring a mind-blowing 20 lead changes in the last 20 laps, Bobby Santos III found a way to keep points leader Justin Bonsignore in his rearview mirror for the last few turns to earn a hard-fought checkered flag at the Musket 200 presented by Whelen Saturday afternoon during the third annual Full Throttle Fall Weekend, earning his sixth win at New Hampshire Motor Speedway. Wayne Helliwell Jr. won the ACT 75 while Shaun Buffington won both Granite State Legends Cars events.

09/08/20

NASCAR returns to New England this weekend for the third annual Full Throttle Fall Weekend at New Hampshire Motor Speedway, and with it, a bevy of captivating storylines – from Justin Bonsignore and Doug Coby fighting for their first Musket 200 win to Jimmy Hebert chasing down his first ACT championship to Shaun Buffington looking to extend his reign as NHMS track champion – that are sure to leave every race fan on the edge of their seats until the final checkered flag falls.

08/31/20

The 97th running of the Loudon Classic was chock full of intrigue and storylines. Defending champion Scott Greenwood is always fast and at the front of the Middleweight Grand Prix class, and in adverse weather conditions, Greenwood is an absolute master. The conditions of the race were looking to be in question all day long as heavy rains in the morning were forecast to "mostly" stop in the afternoon. A host of other riders, including multi-time winner Shane Narbonne, were looking to unseat the reigning champion of the longest-running motorcycle race in the United States.

08/27/20

For more than a decade, there have been two permanent fixtures on the podium for America's longest-running motorcycle race, and neither rider intends on ending that streak any time soon. Shane Narbonne and Scott Greenwood will both take the green flag at New Hampshire Motor Speedway this Saturday for the 97th Annual Loudon Classic, both fighting to be the first to the checkers among a deep field of competitors.

08/06/20

New Hampshire Motor Speedway will host plenty of on-track action during the 97th annual Laconia Motorcycle Week Rally, Aug. 22-30, with a modified schedule of activities due to the COVID-19 pandemic. Charity rides, select competition events and limited camping will take place at the speedway, but vendor displays, concessions and demo rides are canceled for 2020 in order to support proper social distancing.
More News