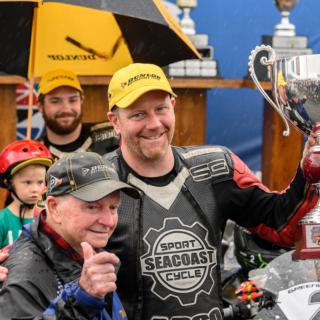 Monday June 17, 2019
With Sunday's 96th running of the Loudon Classic highlighting round three of the 2019 Loudon Road Race Series season, many riders returned to New Hampshire Motor Speedway for the longest-running motorcycle race in America.
Recent Headlines
06/16/19

Scott Greenwood takes his first Loudon Classic victory since 2014, ending Shane Narbonne's four-year winning streak at New Hampshire Motor Speedway on Sunday.

06/15/19

The inaugural Laconia Short Track presented by Russ Brown Motorcycle Attorneys proved to be a challenging 0.25-mile feat for American Flat Track riders on Saturday.

06/13/19

America's longest-running motorcycle race will wrap up Motorcycle Week at NHMS on Sunday, June 16.

06/12/19

NASCAR stars featured in first ever race under the lights at New Hampshire Motor Speedway's new flat track on Friday, July 19 during NASCAR weekend.

06/07/19

New Hampshire Motor Speedway is the perfect pit stop for racing, demo rides, vendor displays, camping and more during Laconia Motorcycle Week, June 8-16.