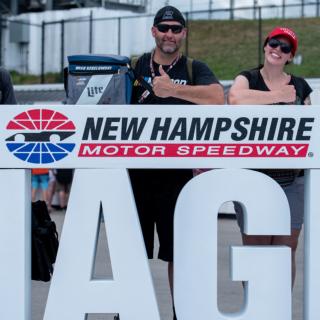 Thursday October 17, 2019
Everyone who renewed their NASCAR Cup Series Foxwoods Resort Casino 301 tickets for July 2020 by October 4 was entered to win garage passes, an NHMS swag bag or a one-night stay at Foxwoods Resort Casino!
Recent Headlines
10/16/19

Lemons take over the 1.6-mile road course at New Hampshire Motor Speedway with a signature fall event October 19-20 that supports children in need. The weekend is full of family fun and unique entertainment during the 24 Hours of Lemons Halloween Hooptiefest, which benefits Speedway Children's Charities New Hampshire Chapter.

10/07/19

The 2019 Loudon Road Race Series season, which featured 174 expert riders, 134 amateur riders and 60 novice riders, closed with the completion of round seven as the riders took on the 1.6-mile road course this past weekend at New Hampshire Motor Speedway. Many competitors ended their season adding a few more achievements and milestones to their personal records.

09/26/19

The trees are creating a colorful background for fall's events including motorcycle and legend car racing, racing clubs and teams, drifting, rally schools, a half marathon and the fan-favorite 24 Hours of Lemons.

09/21/19

The Franklin, Mass. native earned his sixth career win at "The Magic Mile" during this weekend's second annual Full Throttle Fall Weekend.

09/21/19

The 16-year-old takes the checkered flag in Saturday's NASCAR K&N Pro Series East Apple Barrel 125 during the second annual Full Throttle Fall Weekend.
More News